The Miezel wrote a book!!!

My very first, wonderful Miezel-book is finished and you can buy it now! Isn't that just awesome??? I'm so excited! =D
Here I tell you what funny stories have happened to me until today. And there is also a very interesting chapter about the clinical picture of ataxia. Because many people still don't know about it. Extremely informative I must say and my stories are already very funny – hihi 😉
You really need to read this!

You can buy my beautiful book directly on Books on Demand via the following link:
(only available in german language)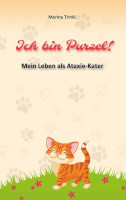 Ich bin Purzel! – Mein Leben als Ataxie-Kater

Or of course on Amazon.

Welcome!
Glad you found your way here =)
I am very happy that my beautiful site already has so many visitors!!!
Here you can learn more about me and my life with the disease ataxia.
What I do with the Kobold (my mistress) and the piglet (my master) you can read in my blog.
Of course there are also pictures and videos of me and a profile.
Furthermore I want to inform about the ataxia itself on my pages. And about healthy nutrition, which is also very important.
So, have fun surfing =)

P.S. very important:
If you have any questions about the care of an ataxia cat or the disease itself, please don't hesitate to ask the Kobold or me! We are very happy to answer emails about this topic and try to support owners here who might be unsure about handling a cat with such a disease or don't know if they should keep it. Don't panic, it is not as bad as it looks at first 😉